"...the true greatness of a nation is founded on principles of humanity." -Thomas Paine
"The Constitution expressly and exclusively vests in the Legislature the power of declaring a state of war. The separation of the power of declaring war from that of conducting it is wisely contrived to exclude the danger of its being declared for the sake of its being conducted." -James Madison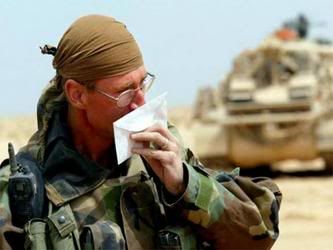 Wow, you guys. That was an excellent debate and I learned a ton and it's an example of how some fundamentals of things American can go right sometimes in spite of all the wrong. Dialog, that provokes real thinking, and the First Ammendment, aided by this 21st century thing called blogging is always a good thing. I wish some of the lurkers would have chimed in. I have to plead an inconsistent and FUBAR internet access for my lack of moderating that whole debate. Thanks for being respectful of each other in my living room and Jen, saying that my blog was a safe place for discussion was a huge compliment. Thanks for that!
So, after reading through all the comments from this weekend, just a few notes. I don't necessarily want to open the whole thread again, just want you all to realize I heard what you were saying. Or in Greg's case, SHOUTING, complete with throbbing, purple forehead vein I could see from here. ;) (love you piano man!)
I didn't keep track of who said what but here goes:
One theme seemed to be trusting the media. I do not on the whole trust the local or even national news. But I'm blessed with a pretty logical brain (despite all evidence to the contrary based on what comes out of my pie hole) and can usually see both sides of a biased story. But it's hard when you can't trust the facts. I submit the photos. Photos do not lie. But context and preconceived ideas play a part. Because we are human. Just like our President. And our soldiers.
So, Bush as a monster. That assumes he had absolute power and was making decisions that would knowingly lead to a disastrous result. He may be a puppet, and a dope but I can't carry it as far as calling him a monster. I believe he feels he was acting in the best interests of the country at the time with the information he had. Naive? Maybe. But I also have to believe that our leaders and their information sources know more than they are were/able to say and there are times when lying can save lives. I have to believe that not all of this mess was deliberate. And Greg, what you said rang very true for me...I SHOULD HAVE EXPECTED BETTER. Americans deserve better leadership and so do the countries that trust us. THAT is worth fighting for. Everything else sounds to me like placing blame and pointing fingers while chaos reigns. Unfortunately, politics will probably get in the way.
I have to object to Saddam being labeled as a good leader. He ruled out of fear. That is never effective. It may appear to be effective but it's not. For leadership to be truly effective the leader must be trustworthy. And we stooped right down to his level, made decisions based on fear and I think Nick was right. Saddam had been playing his own little game for years and enjoyed making the US look foolish. I don't know about you guys, but when they pulled him out of the hole in the dirt I felt like I was covered in the same mud. I felt like the US was just being dragged out right behind him. I had expected things to get better. I had hoped things would be better for the people he terrorized. Not so. The plan did not work.
Now what? Sadly, I dunno. Do we need new leadership? Maybe. Is it reasonable to expect that something new will be available in 2008 when it's time to vote? And if we vote, will it matter? So I think maybe we did the one thing we could do. We talked about it. Hopefully made someone scratch their cranium and think, "Huh. That never occurred to me.". I know I did.
You are a smart bunch of folks. Your parents and some of your teachers ought to give themselves a pat on the back.
Labels: humbled